Nothing beats turning in that last term paper or taking that last test in the last class of your college career. At that point all you have to do is pass, and by this time you should be pretty good at writing papers and taking tests, so chances are you're in sliding into home base toward graduation.
But what many graduates fail to understand in this time of merriment is that NOW the real work begins, because NOW you have to find a job that launches your career in the field you just spent (at least) the last four years preparing for. But unlike the opulent 80s, today's post college financial advice does NOT promise you'll get rich quickly after graduation. But you can get rich slowly, if you're smart, patient, and follow a few simple guidelines that can keep your spirits up and your finances out of trouble.
1. Expect It To Take Months to Find a Career-path Job
Typically today's college students don't graduate with a job in hand. An informal poll by Answers.com found that most college grads took up to six months to find their first career job. So if anyone asks you what you want as a graduation gift, tell them money, because until you earn a steady paycheck you're going to have to find a way to support yourself while looking for a job. You can always move back in with your parents, or…
2. Take an Interim Job
Swallow your pride and just do it. An interim job probably won't be in your desired industry, and it may be just a few bucks above minimum wage (if you're lucky) but it does allow you to stay financially afloat while you seek fulltime, long-term employment.
And if you do have to take a less than perfect job, make the most of it by doing what you love, even if it's not in your career path. For example, if you love animals be a receptionist in a veterinarian's office. Or if you like to read, work in a bookstore. If you're big on coffee, get a job as a barista. But whatever you do, don't cop an attitude just because you have a college degree. You never know when you'll need these coworkers and bosses down the line as references.
3. Expect to Be Hired at an Entry Level Position
Even if you graduated from law school at the top of your class you're going to be hired as the bottom-rung attorney at any law firm. Just be happy you were hired in a job that actually pertains to your career. Entry-level jobs right out of college are the norm now, which means you won't be making a whole lot of money in that first year. So get used to the idea of having roommates or maybe even living with your parents until your first raise.
4. Avoid Debt/Save Money
While in penny-pinching mode resist the desire to comfort yourself with retail therapy. No matter how depressed you might get about your financial situation, DO NOT pretend you have money by going on a shopping bender with your credit card. Remember, your tight financial situation is temporary, but bad credit can follow you around forever.
"A post graduation plan is a good way to get a sense of life will be like in the real world," recommends Tiffany Santilli of Cambridge Credit Counseling Corp. A post graduation plan is essentially a spending plan that consists of income and expenses, as Tiffany further explains in the following video: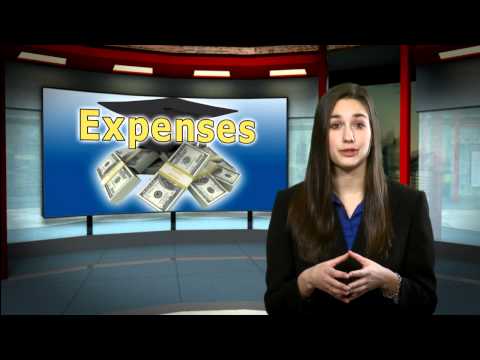 And once you get a job, open a savings account and squirrel away some money no matter how small (even $5). This accomplishes two things: one, you start a small nest egg, and two, you get into the habit of going without in favor of saving money. This is a great practice to establish early on, because once the big bucks start rolling in you won't feel deprived when you challenge yourself to live on less than you make.
Surviving that first year after graduation will be tricky, but take comfort in the fact that it's not just you—all your peers are in the same boat. Once you get your first career-oriented job, a decent salary will eventually follow, and before you know it you'll be living the American "Reality," which beats the American Dream, because in this version you'll actually be able to sustain the life you build for yourself.