When looking for a job the best way to find employment these days seems to be through networking. No matter what career advice column you read (including mine) shameless self-promotion runs pretty near the top of any list. And why wouldn't it? If you're not going to toot your own horn in a competitive job market, then honestly, who will? ("Hello, Mom…?")
However, the truly savvy job seeker is going to search every inch of fertile employment ground, including job search websites, such as Monster.com, because let's face it, you just never know where that next opportunity might pop up. Monster.com is by far one of the largest of these job search sites, but as such it can be easy to get lost when navigating such a behemoth.
Therefore, in the interest of giving you new places to pound the virtual payment, here are four, much smaller (dare I say hip) job search websites that you may not know about (or at least are underused). If you think of Monster.com as the Lady Gaga of the online job search world, then these smaller, more esoteric options are definitely more in the vein of My Morning Jacket or The Antlers indie band camp.
Jobaphile and Bidhire
If you've ever worked as an independent contractor, then you're already familiar with this concept. On Jobaphile and Bidhire employers post jobs and then anyone interested in working these jobs submits a bid. After the employer gets enough bids he or she picks the best one for the job. As you can imagine low bids get more play, however, not every employer goes for the lowest bid. Typically, these jobs are not long-term, and they hire you as a contractor on an hourly (or sometimes flat fee) basis, which means you have to take care of your own payroll taxes and liabilities. However, working as a contractor is handy if you just need interim work until you finally get your long-awaited career-oriented job.
Unlike most job search websites Bidhire is free to the freelancer. It's too soon to tell what Jobaphile will charge, since as of today their website is still not up. However, they are new, so it might be nice to get in on the ground floor.
TweetJobSearch and TwitJobSearch
TweetJobSearch is also brand spanking new and I believe still in beta as I write this. TwitJobSearch has been around longer and has a full functioning website. In both cases, you type in key words and as a result, the websites pull up tweets and Twitter accounts that contain job postings. For example, when TwitJobSearch asks you "What do you want to do," and you type in "computer programmer" TwitJobSerach lists (on the day I did it) 5,965 tweets and Twitter accounts that relate to computer programmer job openings. These then link to other websites that have the actual jobs posted. True, some of them will send you right back to the same old job search websites (like Monster.com) but if you have the patience to sift through all the job postings, there are some interesting possibilities.
Elance and ScriptLance
Think of Elance as Bidhire for writers in general and ScriptLance as Bidhire for website programmers and content writers. Employers looking for contract writing and web services post jobs and writers bid on them. The employer then picks what he or she considers to be the best bid. The difference between these and Bidhire, however, is that Elance and ScriptLance charge for the privilege of using their job search website. But if you get a lot of jobs from these websites then it's worth it.
Regardless of which these job searchs website you use, in all cases you work from the premise that you bid for your job, so you really have to sell yourself to the right people, as consultant Don Bingham of FreelanceWriting.com explains: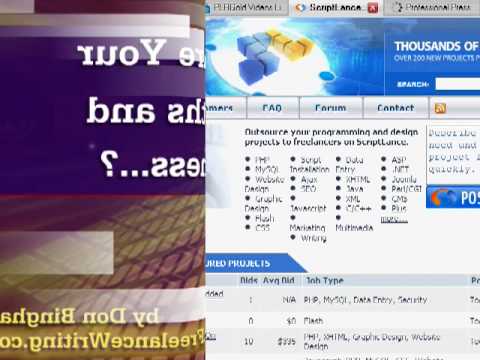 WorkHound
Workhound is the United Kingdom's largest job search website, but don't be fooled by it's location. Even though they're based in Europe, they post jobs based all over the world. For example, I did a search on manager-jobs and the first posting that came up was in Salt Lake City, UT. However, the bulk of the positions offered are in the UK, which is helpful if you're open to moving for a job. Interesting side note: TweetJobSearch was created by the same folks who developed Workhound's search engine, which is a good sign, since Workhound seems to function pretty well.
Regardless of how you look for a job, keep in mind that you shouldn't stick with just one avenue. Peruse every job search website you can AND don't give up on the networking. Make finding meaningful employment YOUR JOB until you actually find a job that can support you. (What a concept, right?)