For the first time since post WW-II the trajectory of the college graduate is an uncharted course. It used to be (as recently as five years ago) that anyone who went to college could expect some sort of well-paying, career-oriented job upon graduation.
But now things are different. Today's precarious world economy puts careers (especially those of recent college grads) into a state of flux. The economic and political issues that trickle down (i.e., the debt ceiling debacle, health care, market crashes, bank bailouts, etc.) affect businesses in such a way that everything is way more competitive than it used to be, mainly because there are now more qualified people than there are jobs. So what does that mean for the recent college graduate looking for employment? That he or she will have to navigate new territory that their parents didn't have to deal with. Starting with things as basic as…
The GMAT Gets a Makeover
Like jobs, space is also limited in graduate schools, and with record numbers of people signing up to get MBAs, something had to be done to the grad school vetting process. Therefore, on June 4, 2012, the GMAT is changing for the first time in over 10 years.
According to a 2009 survey conducted by the Graduate Management Admission Council (GMAC), MBA faculty members felt that the current test did not keep up with the times in terms of data analysis and interpretation. This subject is taught in business schools, but not tested on the GMAT. And given that there are more people than ever pursuing MBAs (there's that competition thing again), business schools want only the best candidates. So the GMAC is changing the GMAT (by taking out one of the two essays and replacing it with a data interpretation section) in the hope that the new test will truly identify the best possible candidates for MBA school. (Hint: If you're good at reading spreadsheets you will do well on this section. Take a sample test to see what I mean.)
Internships are a Reality
Because businesses want to save money unpaid internships are more popular than ever. That's not to say an internship is a bad thing. When properly used an internship can lead to your first career-oriented job, as this video entitled How to Get an Internship cleverly shows: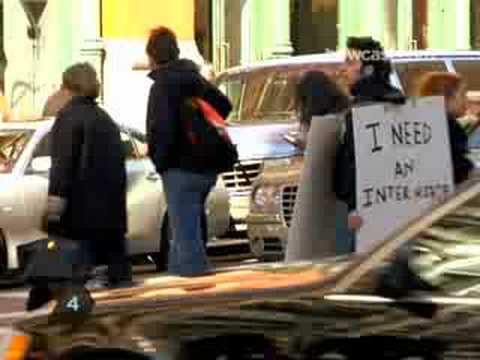 However, the U.S. Department of Labor has clear guidelines as to who can work for free and who can't. In a nutshell, an intern cannot work unpaid for over four months (if they're not a student getting college credit), cannot take over a paid employee's job, and cannot do work that directly adds income to the company. Instead, an unpaid internship is supposed to be a learning experience for the intern, where he or she is trained at the employer's expense. A good sign that you are in a legitimate internship is if the company you work for moves you around to several different departments so you get a little taste of everything.
If you're in doubt as to the legitimacy of an internship offered to you, check with the U.S. Department of Labor's Test for Unpaid Interns.
Everyone Starts at Entry Level
If you're lucky enough to land a job right out of college, you will most likely start at an entry-level position. Don't let that get you down. Just be happy you have a job. With so many qualified professionals looking for work, there are people with decades more experience than you competing for the same jobs. These old hands are willing to take less money than they used to, so the professional job you would have received out of college will more likely go to the person with 15 years experience. This means you get the entry-level position that used to go to the people with no college experience. Again, don't get cantankerous about it. Instead, do the best job ever, no matter how menial it seems. That is the ONLY way you will move up quickly.
Find Your Personal Brand
When your parents graduated from college they didn't have to lobby the working world with a Facebook page, personal website and blog. Now to be competitive in the job market you have to find and promote your personal brand to show prospective employers that you really are an expert at something even though you've only been out of college for 10 minutes. Yes, the whole idea of commercializing yourself is kind of weird, but just file this one under the "squeaky wheel gets the grease". Promoting yourself online gets your name out there and keeps you in the public eye until someone finally takes notice and has the good sense to hire you. Think of it as your resume on steroids.
This generation of college graduates definitely has challenges that the generations before did not have to face. But hey, things could be worse. You don't have a military draft to dodge. Your parents probably have a couch you can sleep on. And you're being forced to live within your means at a very early age. Let's hear it for small comforts!