"Una vez [mi pareja] me preguntó si le engaño. Le dije que es mi esposa y que soy fiel, pero mi amante es el breakdance." — Valentino Salvador Palacios [My partner once asked me if I cheat on her. I told her that she's my wife and that I'm loyal to her, but that breakdance is my lover.]
In the Central Andes of Peru, there's a sweaty old bar where thinned-out mattresses are laid out on a splintered dance floor; there you'll find Valentino almost every day of the week. It's where he trains, the mattresses cushioning his falls as he attempts several jumps and flips. This story involves a baby girl, failed businesses, and various unpaid debts brought together by breakdance.
Watch some clips of his dancing and hear him speak about why dance is important to him in the video below: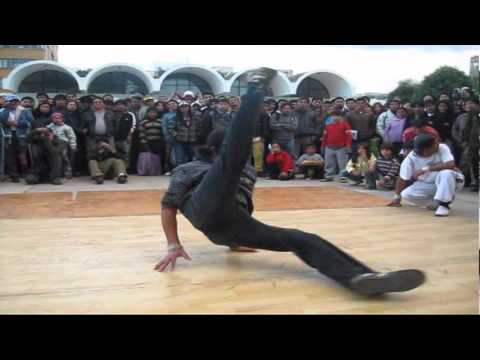 "See, Try and Do"
Valentino maintains that breakdance taught him to face fears head on and demolish self-doubt. At only 26 years of age, he has developed a philosophy toward breakdance, life and his career: "see, try and do." He observes others performing windmills in the streets and in video clips, tries it out and achieves it. "Finally being able to execute a 360-degree backflip or a series of dance steps after putting in a lot of effort motivates me," he explains. "Some people only fight until they reach their limit, but breakdance has taught me that I can always do more."
You also see the same independent strength, persistence and dedication in his life and career. After falling into debt because of no fault of his own, he was forced to give up a lucrative nightclub business and now does contract design work while earning some money on the side as part of a hip hop dance group and in local breakdance battles. When he's able to, he dreams of reviving his nightclub, signing his 2-year-old daughter up for gymnastics and putting his wife through school.
The Importance of a Support System
Within Peru's collectivistic society, many people can survive against the odds because of their network and Valentino agrees: "My family supports me unconditionally." His father is always ready with a job offer, his mother lends him money and his brother shares words of encouragement.
As for his young wife, Valentino is adamant that he doesn't regret starting a long-term relationship early. "Being together gives us strength," he explains. "We have each other to talk to. The hard times unite us." Their relationship is based on communication and they make a point of allowing each other to continue doing what they love. Valentino takes the baby once in a while, so his wife has time to spend with her friends and she, in turn, accepts and appreciates his love for breakdance.
A Commitment to What You Love
For Valentino, breakdance is an analogy for staying true to what you enjoy and what's important to you. When he started, he became the center of gossip in his rural hometown of Sapallanga. People thought he was a good-for-nothing drug addict because acrobatics carried a strong stereotype as a pastime of street kids. No one would have guessed that he would return from a stint in the big city in good health and with business prospects; the town soon realized he was doing much better off than the local boys who had become drunks in their spare time.
"Do what you love to do" is Valentino's motto because it's what has carried him through the tough stretches. Faced with heartless debt collectors and the unfairness of life, he creates calmness on the dance floor, sometimes even with his toddler performing somersaults at his side. "Breakdance distracts me and helps me regain my strength. It's like my medicine."
What do you enjoy doing? Are you making time for it? How does it help you face the challenges of life?