College graduations will be going on all over the country this month and throughout most of July. Typically one of the most unpredictable moments in a graduation ceremony is the commencement address. Unfortunately, these speeches seldom tell us what we want to hear—how to find a job, make money quickly, land on our feet when disaster strikes, and entice people to open their wallets and fund our latest ventures.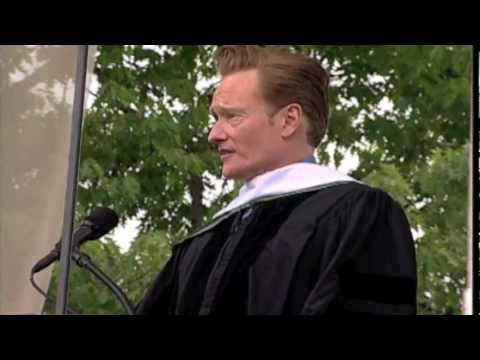 Is that too much to ask?
Instead we usually hear things like "follow your dream," "never give up," "stay the course," "reach for the stars," blah, blah, blah. The problem is how do we do any of that in an economy that's been about as useful as tooth decay for the last three years? All that rhetoric is easy for the successful speaker to spout; he graduated back in the money-spinning 80s and probably has some cushy job at JP Morgan Chase that guarantees him bonuses regardless of how many homes the banks foreclose on.
A Comedian Speaks the Truth
However, there was one commencement speaker this year that didn't try to paint the future as something you could only find on a Monopoly board in 1965. Two weeks ago comedian and talk show host Conan O'Brien gave the commencement speech at Dartmouth, where he was also the recipient of an honorary degree. No stranger to higher education himself, Conan legitimately earned his undergraduate degree at Harvard (in the 1980s) and in 2000 returned to his alma mater to give the commencement address. And now here he was at Dartmouth, "commencing" again, but this time fresh off his public humiliation of being fired from the Tonight Show.
Given the weird job market right now he's the perfect person to speak to today's graduates. This year's grads are being handed a world where the traditional payoffs of a college education no longer apply. At this moment there are more people than jobs, and like Mr. O'Brien (who was forced out because NBC's downsizing left two hosts for one show) some of these new grads will have to rethink their careers right out of the gate—but that's not necessarily a bad thing. "I am here to tell you that whatever you think your dream is now, it will probably change. And that's okay," says Mr. O'Brien, who undoubtedly thought he'd retire from his career as the host of the Tonight Show, just like Johnny Carson did, and Jack Parr before him. "…I learned a hard but profound lesson last year and I'd like to share it with you. In 2000, I told graduates 'Don't be afraid to fail.' Well now I'm here to tell you that, though you should not fear failure, you should do your very best to avoid it. Nietzsche famously said 'Whatever doesn't kill you makes you stronger.' But what he failed to stress is that it almost kills you. Disappointment stings and, for driven, successful people like yourselves it is disorienting. What Nietzsche should have said is 'Whatever doesn't kill you, makes you watch a lot of Cartoon Network and drink mid-price Chardonnay at 11 in the morning.'" It's nice to know that someone as famous as Conan O'Brien also felt the sting of recession, and just like the rest of us, had to figure out a way around it.
Failure IS an Option
Although Mr. O'Brien peppers his speech with his trademark humor, the message is clear: failure can happen to anyone (even the successful), but instead of letting it defeat you, use it to create new opportunities. "There are few things more liberating in this life than having your worst fear realized," says Mr. O'Brien, referring to his disillusionment over losing his lifelong dream of hosting the Tonight Show. But then as a result of that failure he discovered, "No specific job or career goal defines me, and it should not define you. In 2000—in 2000—I told graduates to not be afraid to fail, and I still believe that. But today I tell you that whether you fear it or not, disappointment will come. The beauty is that through disappointment you can gain clarity, and with clarity comes conviction and true originality...Your perceived failure can become a catalyst for your profound reinvention."
At 24 minutes Conan O'Brien's 2011 Dartmouth commencement speech is long (by YouTube standards), and the great advice comes in the second half, but hang in there. Mr. O'Brien's comical, yet poignant, point of view on the state of careers for today's college graduates is worth consideration. Because finally, we have a commencement address that speaks honestly about the realities of our current economic climate (by someone who has been wronged by it), and thus gives useful career advice a graduate of any age can use.