Chances are when you were in college you probably did a lot of writing, no matter what your major was. Whether you like the process of writing or not, it is definitely one of those skills you need in order to advance your career. Now with the Internet, e-mail, websites, blogs, Facebook, Twitter, LinkedIn, and a host of other social media the written word has become the most common and popular form of communication on the planet.
And when you're looking for a job, you do a lot of writing as well. Resumes, cover letters, thank you notes, applications, etc., all keep your writing muscle honed. But even with all that, have you ever thought about keeping a career journal throughout your job-search journey? It's something you might want to consider because keeping a journal can actually speed up the process of finding your next job. How? I'm glad you asked…
Sharpens Your Writing Skills
Like any skill, the more you do it, the better you get at it. So just the exercise of sitting down and writing ANYTHING everyday helps maintain the writing skills you developed in college. Today it's not uncommon for companies to require you take a writing test as part of the interview process. Keeping a journal ensures that your flair for writing doesn't falter during any down time you might have between college and your first career job. Regardless of what your level of writing was at its peak, you want to make sure you stay at that level while looking for a job. It may be that one skill that determines if you're hired or not.
Teaches You to Be Honest With Yourself
Think of your journal as a new friend that you're getting to know. The more time you spend with it, the more you'll open up and pour your heart out onto the page. Why is that important? Because that's how you really find out what it is you want out of a career. By writing honestly about your goals, dreams, hopes, etc., you may discover several career paths that you hadn't considered before, which can lead to new opportunities. And the more opportunities you're open to, the quicker you'll find a job.
Allows you to Organize and Analyze Your Goals
Let's say you already know EXACTLY what it is you want to do—you just don't know how to get there. Well, a journal is the perfect place to map that out. List all your goals and then prioritize them in some sort of order; chronologically, by preference, knowledge level, whatever is most practical for you. Then under each goal write what it will realistically take to achieve that goal, including experience, education, time, money, contacts, etc. As a result, you may find yourself readjusting your goals, some of them may even drop off the list, given the real life logistics it would take to achieve them. But the good news? You'll undoubtedly discover new goals to take their place!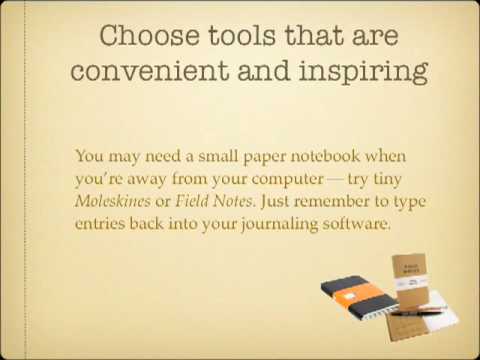 Keeps Record of Your Efforts
This is actually one of the most important reasons of all to keep a career journal while job-hunting. If you write down all the steps you've taken, all the things you've learned, and whom you've met along the way, you can literally use this as a manual in the future for when you're ready to change jobs later within your career. For example, when you meet someone new, don't just write down their name and where they work, record where you met them, who introduced you, the event or place at which you met, what you talked about, and (if they came up in conversation) the names of their family members. That way when you reconnect in the future you can study up on that person before you meet. They will be impressed that you remember so much about them, and thus be more inclined to help you with whatever it is you need.
So how do you start your journal? They easiest way is to just free-form write. Don't edit or sensor yourself, just let your stream of consciousness flow onto the page. The first few paragraphs (or even pages) may just be a bunch of gibberish, but eventually your brain will kick and your inner most thoughts and feelings will start to emerge and make sense. It's the best way to learn about yourself (and WAY cheaper than therapy).
Do you have a tip or trick that keeps you writing faithfully in your journal? Share it with us in the comments below! Everyone needs a little help now and then to stay motivated.