"Improv is life. People just don't realize it." — Stuart Nager
Stuart "Stu" Nager is an improvisation actor who was one of the first proponents of family-friendly improv, owned his own theatre company and is also well known as a professional storyteller. Throughout our interview last month, it became clear that the principles he applied to his performances and career were the very same principles that he applied to life. It's about observing, getting an intuition for what feels right and acting on it.
In the video below, catch Stu in storytelling action, telling traditional tales of Chelm. You can also view more videos of him at his main website.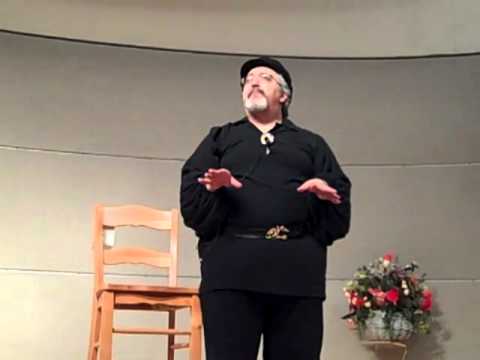 Here are four lessons Stu has garnered throughout his life and career:
All You Need to Know is the Foundation of Your Story

"As a storyteller, I tell stories differently depending on the mood of the audience or the energy," Stu explains. "I may have to be more energetic to get an audience going or I might change how I tell a story depending on the feel of the country or a recent major event. But the basics will be there; the story beats will be there and I know where the story needs to go." Likewise, you should start with establishing your core values that function as the foundation of your own life story. Afterward, life is about being flexible enough to take in and work with the surprises and unpredictability.

"I've done a story where I've forgotten a part," Stu relates. "I left out parts because, at that time, it wasn't necessary for me to tell it. The rest of the story stood on its own. And then there are other times I add more or delete parts." Be willing to make those necessary changes and take those detours, allowing life to lead you to places you never imagined.

It's Okay to Be Bored, But DO Something About It

Considering how switching jobs and careers is the trend rather than the exception in this day and age, we should welcome boredom as an instigator for change. "My son keeps telling me that I have ADHD," Stu jokes. "I do get bored very easily after a while." It's why he is so multitalented with projects as a teacher, director, performer and writer, just to name a few of Stu's roles in life. "I don't want to work fulltime in one office in one place. The first three months I taught for the New City Department of Education as a fulltime theatre teacher, I thought I was ready for the straitjacket," Stu remembers. "I want to work fulltime doing different things." And Stu is a living example that people can be successful dabbling in so many different fields if their hearts so desire.

Break the Rules to Fully Express Your Creativity

Being innovative is about thinking outside of the box and Stu certainly attributes his creativity to rule breaking. "Try to set me down with rules and I'll fight them," he declares. Stu's first published short story was accepted for a romance anthology even though a published romance writer warned him that his story outline didn't fit "the romance writers formula." "You have a unique voice. It makes people laugh," the friend commented. "But they're probably not going to accept you because it doesn't follow the rules." The story was published in July.

"I won't follow rules or a formula," Stu explains. "To me, what's important is if it's a good story and if it's well-written." One of his favorite authors is Roger Selazny who was an award-winning writer, famous for breaking the rules. "What a mind! What a writer! And truly gifted in jumping genres and styles even within science fiction and fantasy," Stu says in admiration. "He created his own paths in the way that he approached things. That's one of the reasons he intrigues me — even though he stays within a certain field, his work is so varied."

Consider What You Would Do for Free

Look back into your past experiences and note the times you volunteered for a project or would have done something for free. Those are glimpses into what you truly love, what you're truly passionate about and what might be worthwhile to pursue as a career.

Stu had the perfect example. On a visit to the library of the Brooklyn Children's Museum, he found a woman telling a story from a picture book. After striking up a conversation with the lady, he offered to tell a story. "I got up and I told an Aesop fable of how the rabbit got his long ears and short, fluffy tail," he relates. "And I drew a huge crowd! I didn't get paid for it. It was just fun to tell a story. I just love getting into the story and I love seeing everyone's reactions. I love everything about it." It's no wonder that Stu's now a sought-after professional storyteller.
You can get in touch with Stu and read snippets of his creative pieces in two blogs — at Born Storyteller he writes on education and the arts while at Tale Spinning he shares experiments in fiction.
How can you apply improv to your life?