"No hay nada mejor que el talento, la carrera y el trabajo vayan de la mano." — Alan Espinoza [There's nothing better than having talent, career, and work go hand in hand.]
Alan Espinoza, 26, is affectionately known as "El Jahmin" for his Rasta-inspired store, Jahmin House, and has also penned the artistic name, "Leon Irie." Leon is Spanish for "lion," a symbol of the Black Jesus or Lion of Judah for Rastas, and Irie is a Jamaican word referring to a state of positivity and being at peace. This is exactly the relaxed, calm, open, and cheerful attitude that Alan exudes even when he faces discrimination against his beliefs and way of living.
In the video below, Alan speaks about what it means to be Rastafari for him and introduces his store to us. Also catch his original music, a photo montage of the Rasta spirit in his life, and some clips of him hyping up the crowd and performing at a local skateboarding event: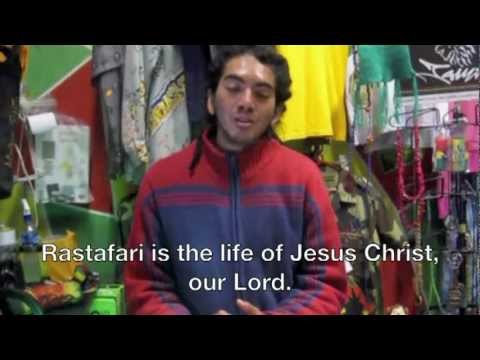 Listening to the Heart
As the youngest of four siblings in a conservative family, Alan was set for a career in business administration, but it was during those very years in the transition from high school to university that he would learn to listen to his heart. In his last years of high school, Alan began listening to reggae and found that the music transmitted calmness, tranquility, and joy for him. "I didn't understand English, but I heard the word 'Rastafari' a lot and it ignited something in me," he relates. "I later listened to Gondwana, a Chilean Rastafari band, and their lyrics of peace, love, respect, Marcus Garvey, Haile Selassie, and Rastas caught my attention."
He soon met other Rastafaris in Huancayo who had already been part of the movement. They taught him about the Rastafari culture and about distancing from the libertine life. "I left my studies in business administration because I felt I was one more servant of the system," he explains. "My heart asked me to find my true self." And through Rastafarianism, he found a new direction in life that involves all that he loves: his Rasta spirit, music, art, and entrepreneurialism. Not only would he open the first Rastafari cultural store in Huancayo, but he would also start a band with his Rasta brothers, blending reggae with other rhythms of Latin America, and support the marketing of both endeavors with studies in art and graphic design.
Rastafarianism in Peru and to Leon Irie
"Rastafarianism is a way of living," Alan tells me. "It's about the Bible, the scriptures, salvation, repatriation, and finding your roots and where you need to go in body or spirit, physically or spiritually." Although Alan lives the life of a stereotypical Rasta listening to and singing reggae music, sporting dreadlocks, and smoking ganja, he makes sure to clarify that these are ways to express the Rastafari culture but are neither necessary to the philosophy nor practiced by all Rastas.
"Reggae is popular music from Jamaica and Rastas propagated their culture through it. It was a form of communication and this is how it arrived in other countries like Peru. In Leviticus, God told Moses that he should let his hair grow as a pact with God and this is where dreadlocks come from. As for marijuana, Rastas consider it 'the sacred herb' mentioned in the Bible. You need to have an open mind and smoke marijuana securely to assimilate it well physically and spiritually."
Unfortunately, Peru hasn't been so welcoming to his beliefs. "Peru has a closed mind," Alan comments. "Even if you're good at something, what you look like is more important." Some people have come right out and told him to cut his hair if he wanted to work for them. In fact, when hanging out with some Rasta friends once, a police officer told them to split up and leave just because of the way they looked. "It's a lack of respect for human rights," he states. "As Rastas, we believe that the beast or 666 is the Catholic Church, the Vatican, and the Pope who control governments and armed forces. People in the 'system' work for them unconsciously."
In his search for understanding, Alan opened his store, Jahmin House, which sells Rasta-themed clothing, accessories, and items. He also sells his own line of clothing branded "Afrikan Roots," in reference to the Rasta belief that Africa is the origin of humanity. "I've been painting since I was a child and now paint clothes and sneakers," Alan says. "Not only have I been able to express my artistic side, but a lot of people have also come to know Rastafarianism through my store." In the future, he hopes to take Jahmin House to the national level and eventually study communications to supplement his certificate in arts and graphic design for advertising.
Expressing the Rasta Spirit in Huancayo
"In 2005, I put a group of the brothers together and found that they all had musical talents," Alan recounts as he begins the tale of the Black Family R7. He describes the meaning behind the name of his group: "Black because we're black in essence, even if not by skin, family because we grow together, "R" in reference to Rastafari, respect, and revolution, and seven for the perfect number of God." The Black Family R7 has a distinct sound and style because they mix genres like salsa with their base of reggae, rap, and hip hop. It wasn't easy to get started because some rappers felt threatened by Rastas rapping. "They'd put us at the end of the show or shut off our music while we were singing," he remembers. "But the struggle only motivated us even more and we kept on singing."
Soon, the Black Family R7 became more than just a musical group. They hosted full-on shows, presentations, events, and festivals as the crew grew to 15 people with varying talents, such as breakdancing, beatboxing, juggling, bicycle tricks, and urban art. "We garnered the support of the government for a while," Alan says proudly. "Through them, we were able to achieve much more." As they gained fame and popularity, the Black Family R7 were even invited to present in other places within the country. "The only thing that frustrates us is that we don't have a CD recorded yet and we have around 100 songs," he says. "We don't want this to stay in the closet." They now expect to have their CD out by the end of the year with the help of a Rasta brother from Bum Dem Records. "I also dream of R7 becoming well known internationally," Alan mentions. "As a teen, my dream was to have a rock band or be a football player. I won't be able to be a football player, but I may be able to go far with a musical group."
This interview was conducted in August 2011, the sixth anniversary month of his store. Visit Alan at Jahmin House, store S-04 at Centro Comercial Consticución in the semi-basement.
How have your religious and spiritual beliefs influenced your career? Tell us in the comments below!