Let's just cut to the chase. If you want a job, you submit your resume to a company that has a job opening, right?
Well…, no.
That used to be true, but not so anymore. Eighty percent of all jobs that become available are already filled before they're advertised to the public. That means a lot of the people who apply for jobs will be turned down even before their resumes hit an HR person's desk.
"I call this the Front Door Folly," says career strategist and advisor Darrell Gurney, also known as The Career Guy and author of the book Backdoor Job Search: Never Apply for a Job Again! "Unfortunately, looking for a job the old-fashioned way (via the front door) only nets you (A) competition from everyone, (B) no negotiating power, (C) adversarial interviews, and (D) not the hottest positions," as Mr. Gurney points out in his video, The Evolution of a Hire: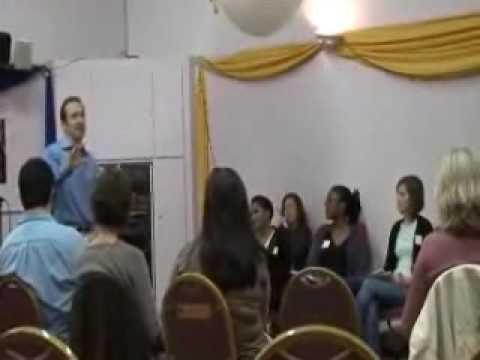 Mr. Gurney advocates a back door approach when seeking work, which starts with YOU utilizing these five points prior to looking (or while you look) for a job.
Get Involved
Whether you're still in college or you've already graduated, you're never going to find a job sitting in front of your laptop all day surfing job-search websites. The only way you're going to even find your way to the back door in your job-search is to make connections first.
"Get involved in organizations that cater to your interests," says Mr. Gurney. "For example, if you're still in college join the Student Union, volunteer at cultural and campus events, offer to be an assistant to a school administrator. If you've already graduated and are looking for a job, take an interim job that may not pay well, but gives you access to people that can potentially take you further. This carries a lot of weight [on a resume] over if you were a cashier at a pet store—unless, of course, pets are your passion."
Internships
It used to be that internships were only for college students, but in recent years they've become the precursor to graduates launching their careers.
"Before or after you graduate, it really pays to do an internship," advises Mr. Gurney. "In some ways unpaid internships are actually better. If a company is concerned about your hourly wage, they may not engage you as much in educational activities because they want to make the most out of the dollars they're spending, which means you end up doing grunt work."
But it also pays to look for internships strategically, meaning consider what they have to offer down the road.
"Seek out companies that tend to hire their interns," counsels Mr. Gurney. "And during your internship make sure you thoroughly learn everything you need to know to impress a future employer. Many interns become employees simply because they become valuable."
Line Up Your References
Proactively get letters of reference, as opposed to just collecting names and contact info for a reference sheet. When you hand an interviewer a reference sheet, you're assuming the interviewer has the time to contact these people, when in reality he or she probably never will. However, an interviewer will for sure read a stack of reference letters that contains glowing prose about how wonderful you are.
"But if you have to resort to a reference sheet," cautions Mr. Gurney, "make sure each reference includes a little blurb about how you know your reference, what projects you worked on with them, as well as a direct quote [from that person] that puts you in a positive light."
Get to Know Your Friends
Do you know what your college friends' families do for a living? You should, because maybe your college roommate's father, for example, is the head of an IT department and can get you an interview. Or maybe your mom (the lawyer) can give a leg up to one of your recent law school grad friends.
"Network with your fellow classmates and college alumni," says Mr. Gurney. "Find out who their connections are and offer yours to them. It may turn out that perfect person you need to meet to advance your career is related to someone you know."
Employ the Stealth Networking Method™
While looking for a job, Mr. Gurney recommends you create your own research project that explores something in your industry you want to know more about, then set up meetings with leaders in that industry simply as research advisors. Make it clear that your meeting is not to ask for a job, but to get help with your project.
"Once you get your meeting, first be interested in them and their experience, and then ask some carefully prepared questions on a very granular level," advises Mr. Gurney. "The point here is NOT to ask for a job, but to create a relationship that can help you find work. At the very least you'll get your questions answered, and at the most the person may want to help you either in their company or refer you to others."
Regardless of where you are in your job-search, the key in this economy is patience—and to stay in front of the pack. Ironically, now the best way to do that is to come in the back door. Who knew avoiding the front could be so rewarding?