Known as the "French Yummy Mummy," Muriel Jacques has embraced London as her new home where she lives with her husband and two bilingual daughters who are "cheeky little girls."
Muriel blogs as a hobby and though she feels like a newbie, 40blogSpot has quickly gained popularity. In it, she analyzes and reflects on the ways of the British with a candid sense of humor. "I am still finding it hard to comprehend how this country works, and what my friends really, really mean," Muriel says.
As she juggles her hilarious "struggle to understand the Brits," family life, a highly respected full-time slash profession as an engineer and lawyer, and a growing 4-year-old business in property management, we reach deep inside Muriel's heart to hear about her underlying passion. What she's truly passionate about hit her upon her first steps in Bali.
Check out this original video clip, created by Muriel's daughter, paying tribute to their travels in Bali: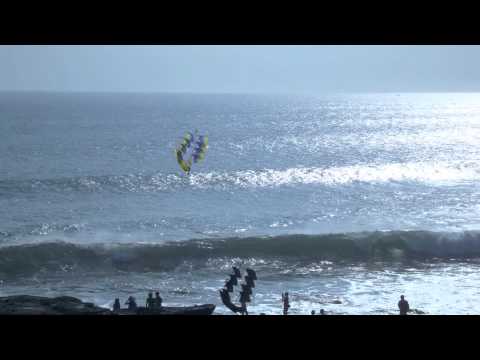 Humble Beginnings
"My family is from a small village in Provence, South of France and we never traveled," Muriel remembers. "There was an implicit assumption that Provence was the best place on earth and you would be a fool to go and live anywhere else." It was merely acceptable to study in Paris where she was granted a Master of Science degree from one of the most prestigious engineering universities in France, École Centrale Paris, alongside a Master of Law degree from Paris La Sorbonne.
Despite being under pressure to return and settle in Provence, she began a career in Paris, making a name for herself in male-dominated fields. "I have always believed in women's right to be educated, to have a career or to choose to stay at home," Muriel explains. "I have been brought up thinking that everything was possible and I am grateful for that, even if in fact, everything is possible but that little bit more difficult for girls." Her career eventually turned global as she worked "on big infrastructure contracts all over the world, building new trains and signaling systems." She continued breaking down barriers when this "born and bred French" met her passion in Bali at 23 years of age and "discovered that life outside of France was possible and even enjoyable" nine years later when she moved to London.
A Glimpse of Freshness
In her own words, Muriel describes how she encountered her passion:
"It all dawned on me when I took my first steps outside of Bali's airport in Denpasar. A wall of heat fell on my head. This was unfamiliar. I loved it. From this moment on, all my senses were on alert. I was trying to understand everything. I learned a few words of Bahasa to try to be independent. This trip was a feast for the eyes: the Balinese dancers, the offering to the Gods, the batiks and the ikats (colorful Indonesian fabrics). Oh, and the sweet smell of the dark red earth, sometimes mixed with all the rubbish left in the burning heat –- simply unique.

Funnily enough, in the group, I was the only one enjoying the trip. All my friends were either sick or criticizing everything. You see, things were different, and somehow they couldn't cope with this. Maybe I was lucky as well –- apparently, I have inherited my grandmother's stomach and she has never had a tummy bug."
The Travel Bug Bites Hard and Hangs On
Muriel's love for travel only grew from there:
"From this trip on, I knew that I had itchy feet. I ended up traveling at every possible opportunity: Brazil, USA, Rajasthan, Malaysia, Singapore, Europe. Sometimes it was part of my job and sometimes it was just for holidays. I could sleep in a top-notch hotel one night and in a two-dollar-a-night beach hut the next day. I simply didn't mind.

From my travels, I had to learn to speak English. I know it sounds silly, but my parents made me study German as my first foreign language, which is great in Germany, but not so useful in the countries I was traveling to. Another bonus is that traveling and Bali in particular are passions that I share with my husband, so to an extent, traveling helped me find (and keep) a husband!

Traveling is what makes me happy. I like seeing different landscapes and new types of art. I also love talking to new people to try to understand what their values and hopes are. Somehow, when I travel, my problems are put in a different perspective because, for instance, I see people who are happier than me with a lot less. Traveling is way to challenge my beliefs, put myself in listening mode — a difficult thing for me — and be more flexible, to take things as they come, because it's never what I expect.

Now that I have a family, things had to change. I settled down in London and my little ones have already traveled to places I didn't even know existed when I was their age. I hope that it will give them a different perspective and make them able to settle down wherever they want to.

Sam, I thoroughly enjoyed doing this interview. We met in a group of like-minded bloggers and I believe that you are a very talented writer. It's an honor that we have virtually met."
How has traveling played a role in your life?