Katty Mosquera Cuadros is the founder and director of Adrenalina Tours, currently one of the most famous tourist agencies in Huancayo in the Central Andes of Peru.
From humble beginnings, Katty began in the field of tourism working 15-hour days, often seven days a week. With the help of key family members, she was able to start her own business and is now planning to expand her company to the national level.
Catch her chatting about why tourism is important and describing the most popular tour in Huancayo in the video below: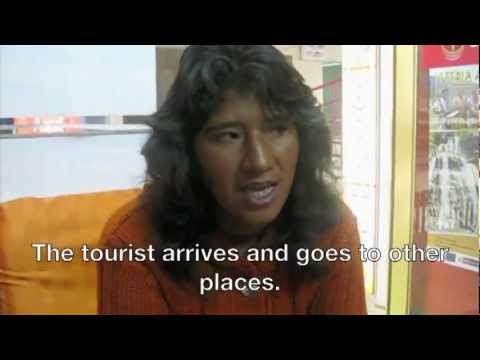 Dreams Change
As a child, Katty imagined she would be a teacher when she grew up. It wasn't until her final year of high school that the direction of her life would drastically change. It's common for Peruvian high school students to go on a graduation trip and her class headed to Cuzco to visit the famous ruins of Machu Picchu. Not only did she learn about Peruvian archeology and history there, but she would also be inspired by the guides that handled the trip. "I admired their knowledge and talent in storytelling and educating others about Peru," she explains.
It was decided. "I spent the next five years studying tourism at the local university in Huancayo," Katty says. "And I took advantage of every vacation to gain experience at various tourist agencies in the Mantaro Valley." Her only goal was to get hired by the largest and most reputable tourist agency in the area: Huanca Tours. Little did she know what it would mean to reach that goal and how much bigger she would soon dream.
Dreams Evolve
Katty was hired by Huanca Tours as a fresh graduate and was soon managing almost the entire workload of the company on her own! "By 6:30am, I was handing out flyers and selling my tours in the main plaza," she remembers. "Then, I acted as the guide and took my groups out on tours of Huancayo and the Mantaro Valley." When she returned from each tour, she would spend the rest of the evening at the Huanca Tours office. Her days turned into 15-hour days and she often worked seven days a week if there were tours booked on Sunday too!
"Despite the heavy workload, I can't undervalue the rich experience I gained in the field," Katty says. Not only did I learn a lot about the different tours of the Mantaro Valley, but I also learned a lot about how businesses work. Seeing as how she was almost single-handedly in charge of Huanca Tours and how her clients loved her, sending praise, tips and gifts her way, Katty began to dream bigger. If she could handle Huanca Tours, she could start her own tourist agency and potentially make it even better!
Dreams Become Reality
Her uncle, who owns a business in Lima, would play an influential role as her mentor. "He was the one who took the Yellow Pages away from me and forced me to use my own creativity to think up a name for my business that would catch others' attention and stick," Katty remembers. "And he was also the one who told me that there would be moments I wouldn't even have enough money to eat, but that it was important to never give up." Her grandfather, a university professor at UCLA, also pledged his support. He sent her the latest mountaineering equipment from the United States and more recently, loaned her the money to buy her first buses.
Business started off slowly with the help of her mother in the office for almost a year and she learned the hard way that it wasn't worth it to charge so cheaply. "We now focus on gaining less clients but providing quality," Katty explains. "And for charging more, we offer a full team of professionals in tourism who stay up-to-date by attending every single workshop available in Huancayo and who are ready for every situation." They were put to the test when two rebellious tourists strayed from the group and got lost in the snow-covered Huaytapallana mountain. Katty's entire team participated in the search, finally finding them at 3 in the morning on the verge of hypothermia and in a state of shock. Thanks to the top-notch equipment from the United States and all the workshops, they were able to manage the situation as efficiently as possible and the tourists returned home healthy.
These days, business thrives and family still plays a major role in its success: Katty's husband handles everything related to transport and her sister is always helping out with marketing. In a way, Katty even considers her employees as family. "I've been really lucky to have staff loyal to our company," she comments as she expresses her thankfulness to all who work for Adrenalina Tours, and then adds: "My grandfather told me that he was supporting me because he didn't want Adrenalina Tours to be just any other agency. He wanted it to be the best in the business." And that's exactly the attitude she takes as she plans to open a branch in Lima and eventually reach all of Peru.
How have family and friends influenced and supported you in your career? Tell us in the comments below!