"Everything that we do is a story. Everything." — Stuart Nager
It's hard to put Stuart "Stu" Nager into a box. Yes, he's a teacher, director, performer and writer, but those labels hardly do justice to all that he really does and how his roles are constantly evolving. Can it be true that life may not be about living just one career?
For a glimpse of what makes him unique, check out this video clip of Stu telling the story of the Emperor's New Clothes on Hans Christian Andersen Day and then read on to learn more about him: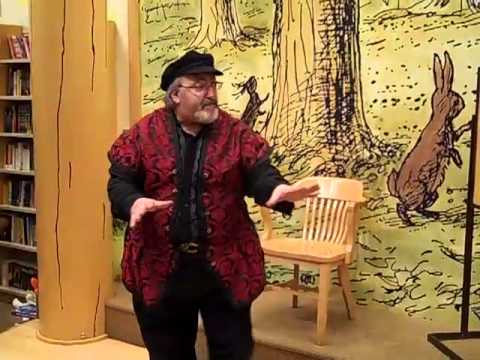 Something Innate
"I grew up around the corner from Yankee Stadium, in The Bronx, New York," relates Stu, but it wasn't sports that interested him. Instead, you would find little Stu every Saturday around the corner on 161st Street at The Earl Theatre watching movies. "Movies. Art. TV. All this started me off…and then at six years old, at the Bronx Y on the Grand Concourse, I had the lead in a play. I was King Solomon and I hammed it up with the best of them. I still remember my fainting scene!" It was a childhood filled with what he loved — theatre and performing. "I was in chorus, camp shows, shows at the Y, school shows…you name it," Stu remembers.
"I also wrote, creating little comic books, James Bond-like stories, mimicking the things that I was just plain enjoying. I always wrote something, was creating something…whether it was a play, really bad song lyrics, poems or stories that I started and never took anywhere. I was creative in spirit and in doing but unfocused for a lot of it."
So what happened when it came time for university? It's an absolute shocker to hear Stu say, "I have my Bachelor's in Human Resources." A six-year marriage held him to the restaurant industry as a food service director, restaurant manager and catering director. "It was soul killing," he says matter-of-factly. "After the divorce, I didn't know what to do with myself. I was making a lot of money, my benefits were great and I had three weeks vacation, but I hated it." Fast forward fifteen years and Stu is in a tragic fire where he is struck by a "painful epiphany" that went something like, "Schmuck, you hate what you're doing. Get out!" And that's what he did, quitting a week and a half later.
A Lifelong Dream Takes Center Stage
There was no real plan after the drastic change. "I knew I should be doing something, but I had no idea what," Stu remembers. After three months of temporary employment, a chance event would beget inspiration for a new direction. "I was already gaining popularity for running a Thursday night improvisation troupe and somebody asked if I would put together an improv show for a town anniversary celebration," he explains. Little did he and his team know that they would be putting on a show for over 80 children. It was improvisation at its best as Stu quickly revamped the improv performance they had rehearsed for adults and even though the team left knowing they did "bad improv," the children loved it!
"It was then that things just fell into place," Stu remembers.
"At that time in 1994, no one was doing family improv. It was all bar improv for drunks or improv for college kids, but nobody was doing family-style improvisation in the New York area. Nobody. Only a few improvisation troupes were doing kid improv, but I called mine 'familyprov' because I didn't want to dumb it down. We took improvisational handles and games and made it family friendly."
A few weeks later, Stu founded the Brother's Grinn theatre company, brought people in and rehearsed for six months before their first show. It was a raving success and Brother's Grinn lasted 12 years, doing over 1,000 performances!
Honing in on What You Love
Less than a year after starting Brother's Grinn, Stu realized that what he really relished weren't the improvisation games but making stories come alive through scene work and storytelling. "I felt they were more creative and whenever I received feedback from audience members, it was always about the stories and songs," Stu recalls. "Stories are so powerful because we are made up of stories and storytelling is the most primal form of communication." It was a bumpy ride as the members of Brother's Grinn decided whether they wanted to stay or go after Stu's executive decision to get rid of improv games and just do narrative improv. "Even though I wanted the group to stay whole, if I'm going to do something, I need to be happy," he states. "And I started Brother's Grinn for me."
Since then, Stu's willingness to follow his interests and listen to his intuition has taken him to all ends of the artistic world. He currently teaches drama, directs plays, writes plays, writes stories, performs in his own play and performs as a professional storyteller. Add to that Stu's first published short story in an eBook anthology that came out just this month. Though he is already living out his dreams and passions, Stu does admit that he has one unfulfilled wish that would serve as icing on the cake: "I would like to hold a book with my name on it and I want to sign that book for somebody who wants me to sign it to them." When I last talked to Stu, he was about to meet an agent and there's no doubt that this one final wish will come true.
You can get in touch with Stu and read snippets of his creative pieces in two blogs — at Born Storyteller he writes on education and the arts while at Tale Spinning he shares experiments in fiction. You can also catch more videos of him at his main website.
What's stopping you from following all of your interests?